Meetings / Events
Over the Anzac Day long weekend 40 people attended our inaugural campout at Cantara Homestead in the Coorong National Park.
The attendees were from Friends of the Simpson Desert (FOS) and Friends of the Great Victoria Desert (GVD) and a number of the attendees were joint members of both groups.
The main reason for organising the campout was to catch up with members who can no longer attend our annual working bees, but who are still keen caravaners and campers. It was planned to be a social event and it certainly worked in achieving that goal, with many members of both groups renewing old acquaintances.
The consensus from the group was "let's do it again next year".
We had exclusive use of Cantara which is a great venue with lots of lawned space to camp and the ability to accommodate the non-campers within the homestead. We had showers, toilets, a kitchen, community BBQ and every night, in perfect weather, we had a community campfire.
Apart from lots of socializing, here are some photos of some of the weekend's activities with a number of clean up jobs completed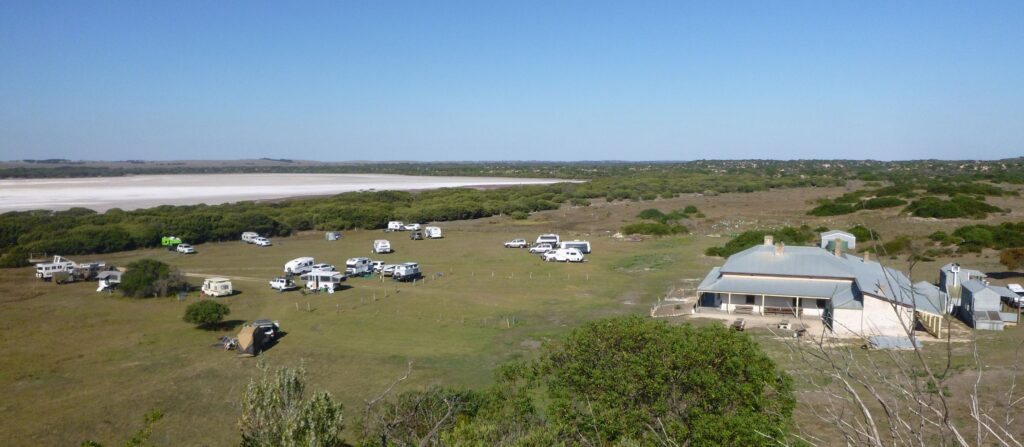 AGM
Our AGM was held on Wednesday the 30th March at the Glenunga Hub.
The current committee were prepared to continue for 2022 and no new nominations were received.
The current committee is as follows:-
Barry Barber – President,
Lynton Huxley – Vice President,
Lesley Hunkin – Secretary
Dean Moseley – Treasurer
Bill Bainger – Committee Member
All members have been provided with Minutes of the AGM.