Our logo – why choose this little bird?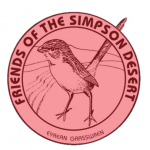 This little bird is an Eyrean grasswren. At 14 to 16 cm in length it is the smallest grasswren.
It was first seen by Europeans in 1874 around the Macumba River near Lake Eyre.
It is now only found north of Cameron Corner through to Witjira National Park in the Simpson and Strezlecki Deserts.
As it is unique to the area we work in, we adopted it for our logo.
When you travel in the desert you may spot some of these unique birds in pairs or small groups in the dunes where they live amongst the cane and spear grass.
It rarely leaves the shelter of the dunes to even venture into the swales and does not fly much preferring to "half run half fly" close to the ground.
Good spotting – here is a photo of a bird taken by one of our members this year!